之九 : 滿天里亮晶晶的星星 (Version 1)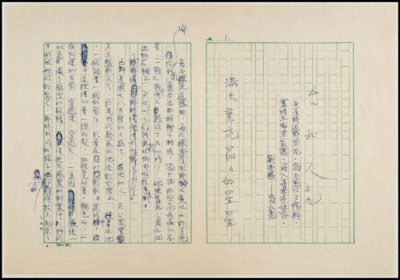 Author:

Variant Title:

Sky full of blazing stars, 滿天里亮晶晶的星星, and Man tian li liang jing jing de xing xing

Creation Date:

[1968?]

Genres:

Citation:

[Identification of Item], Pai Hsien-Yung Collection. UArch FacP 29. Department of Special Research Collections, UC Santa Barbara Library.

Description:

Manuscript by UCSB Professor Emeritus and internationally recognized Chinese author Pai Hsien-Yung (Kenneth Pai).

Physical Description:

8 p. ; 27 x 39 cm

Format:

Manuscript and Text

Collection(s):

Series:

Folder:

Library Location:

ARK:

ark:/48907/f3hq439g

Local Identifier:

uarchfacp029-f0001-07

Rights:

In Copyright

Copyright Holder:

Bai, Xianyong, 1937-

Restrictions:

With the permission of Professor Pai Hsien-Yung (Kenneth Pai), the library has digitized portions of the collection for preservation and to facilitate scholarly research.