第六隻手指 : 紀念三姐先明以及我們的童年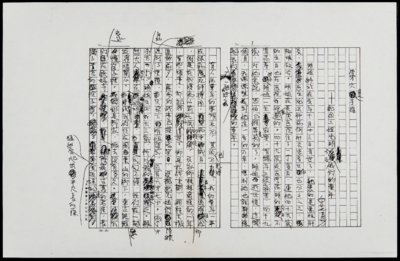 Author:

Variant Title:

Di liu zhi shou zhi : ji nian san jie Xianming yi ji wo men de tong nian and Sixth finger : in memory of my third elder sister and our childhood

Creation Date:

1983

Topics:

Genres:

Citation:

[Identification of Item], Pai Hsien-Yung Collection. UArch FacP 29. Department of Special Research Collections, UC Santa Barbara Library.

Description:

Manuscript by UCSB Professor Emeritus and internationally recognized Chinese author Pai Hsien-Yung (Kenneth Pai).

Physical Description:

23 p. ; 23 x 43 cm

Format:

Manuscript and Text

Collection(s):

Series:

Library Location:

ARK:

ark:/48907/f3dr2zxj

Local Identifier:

uarchfacp029-f0013

Rights:

In Copyright

Copyright Holder:

Bai, Xianyong, 1937-

Restrictions:

With the permission of Professor Pai Hsien-Yung (Kenneth Pai), the library has digitized portions of the collection for preservation and to facilitate scholarly research.